The Fullerton College Art Gallery attracts the finest professional artists, encourages great student art exhibitions and maintains an extraordinary permanent art collection.
CURRENT EXHIBITION
APRIL BEY: Welcome to Atlantica
March 5th – 30th, 2020
ABOUT THE EXHIBIT:
Fullerton College is honored to present April Bey as our 2020 Artist in Residence. Bey, who grew up in the Caribbean (Nassau, Bahamas) and is now based in Los Angeles, is best known for her mixed media and process-based work. Bey's interdisciplinary artwork is an introspective and social critique of American and Bahamian culture, contemporary pop culture feminism, generational theory, social media, AfroFuturism, and constructs of race. The exhibition in the Fullerton College Art Gallery Welcome to Atlantica will be accompanied by an artist lecture and a week-long series of demonstrations as part of the distinguished Fullerton College Artist in Residence program. 
SUPPORTING EVENTS:
Artist's Reception, Thursday, March 5th, 5-7pm
Artist Lecture, March 10th, 7pm in Wilshire Auditorium
Artist in Residence Demonstrations (Room 1023):
– Monday, March 9th 9am-11:30am and 1pm to 4pm
– Tuesday, March 10th 9am-11:30am
– Wednesday, March 11th 9am-11:30am and 1pm to 4pm
– Thursday, March 12th 9am-11:30am and 1pm to 4pm
GALLERY HOURS:
Monday through Thursday from 10:00am to 12:00pm and 2:00 to 4:00pm
Evenings: March 18th, 24th, & 30th from 6:00pm to 8:00pm.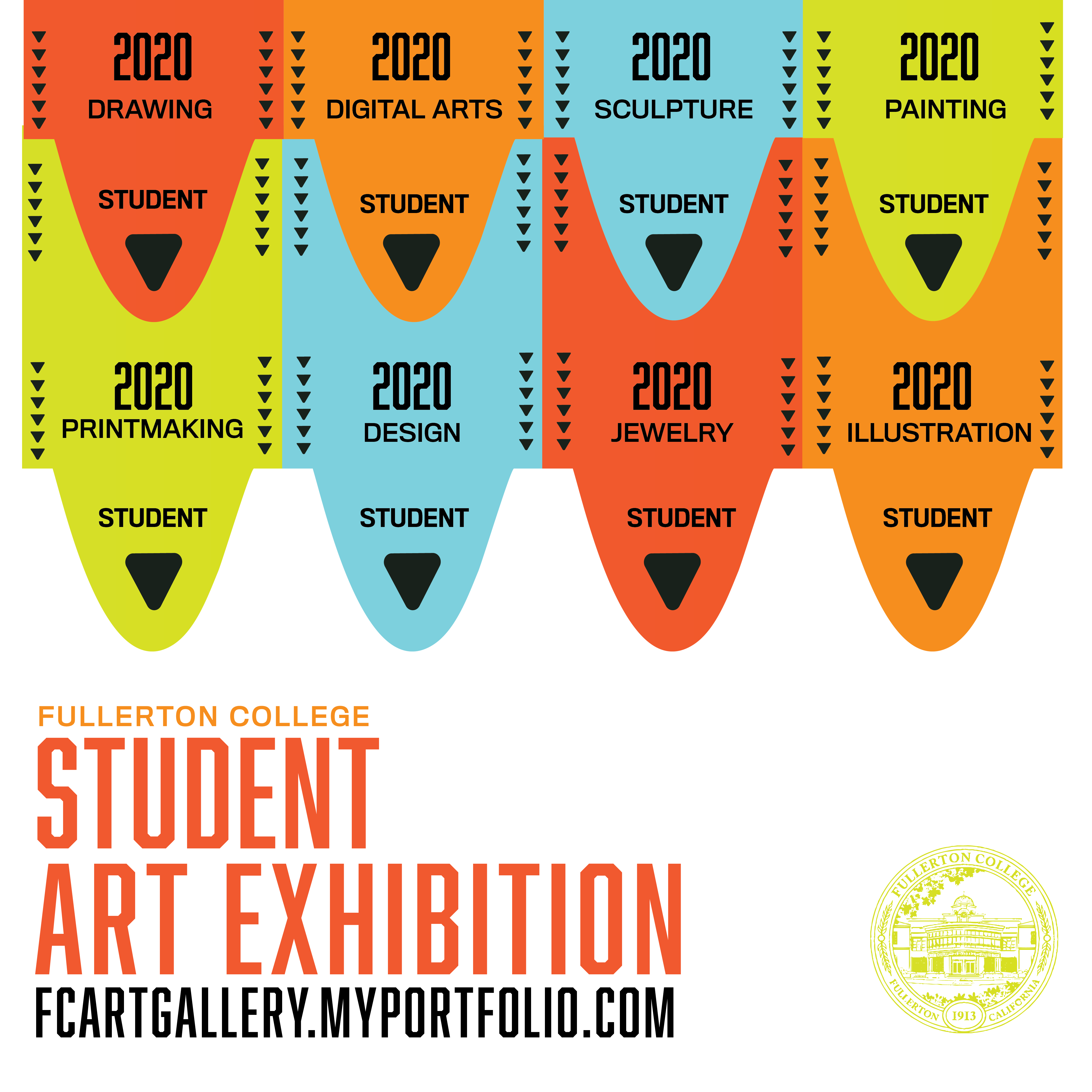 The Fullerton College Art Gallery is proud to present our first virtual Student Art Exhibition. Please visit
to enjoy all the student artwork from the past year. Museum studies students built this site to showcase individual artworks, disciplines, and curated a few virtual galleries.
EXHIBITION CALENDAR
Fullerton College's reputation is tied to the quality of its art exhibitions and visiting artists. These exhibitions include the works of established artists who participate in the Fullerton College Artist-in Residence Program, the works of local emerging and mid-career artists, borrowed works of public and private collections, as well as the artworks of students attending and enrolled in Fullerton College fine art studio classes. Fullerton College owns an impressive Permanent Art Collection, which is showcased biennially; alternating exhibition years with the Faculty Exhibition. The gallery goal is to show diverse exhibitions that represent various disciplines in art and span a wide range of curatorial theme and focus.
The Fullerton College Art Department is one of the select few college art departments in the nation can boast of a viable and prestigious Artist in Residence program. When California artist Wayne Thiebaud helped launch the first residency in the early 1970's, the Art Department perhaps had no idea that a new chapter in its history was about to be written. Who really knew then that this "happening" would grow into the most important and defining tradition of the department? Decades later, this yearly event continues to inspire not only students and staff, but also the local art community. We continue to welcome top-flight national and international artists who represent a wide range of styles, themes and issues in their work. The impressive list of guest artists include Miriam Schapiro, Gronk, Lisa Congdon, and Stephen Silver, just to name a few.
OUR COLLECTION, OUR PERMANENT BLISS
The Fullerton College Art Department is indeed very proud to be in the possession of a very fine and envied collection of paintings, drawings, prints, and other objets d'art. As I wandered through our collection late last spring, I was immediately struck by the overall beauty of this modest, but precious collection of visual surprises. The Fullerton College Art Collection exemplifies what a college art collection should: education, inspiration, and the ability to move us all.
Want to join our mailing list? We send out 2-3 emails per semester to announce our exhibitions and events.